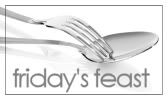 Appetizer
On a scale of 1-10 (with 10 as highest), how much do you like your own handwriting?
I like my own handwriting about a 6.  I can write very fast but not very neat or very neat and not very fast.
Soup
Do you prefer baths or showers?
I prefer showers.  I would love to have a rainforest shower like this one.  It would be like a vacation everytime you get in the shower.  I am not sure why you would need a television in the shower but it is still awesome looking.
Salad
What was the last bad movie you watched?
Are We Done Yet? Boy, I will be so glad when new tv shows start again.
Main Course
Name something you are addicted to and describe how it affects your life.
I think I am addicted to tivo.  I love that tivo allows you to have a menu of tv shows available at any one time.  I like that I can easily choose what programs my children watch and it does not matter what time or day the show actually comes on.  I love the fact that I can fast forward through ads.  I love how you can read the episode names and descriptions.  Overall, I think it positively affects my life because I watch less tv in more time.
Dessert
Which instrument is your favorite to listen to?
I think I enjoy piano the most.  It can be very soothing to hear.
Please leave a comment if you stop by my blog so I can be sure to check out your blog.  If you have not done so already, be sure to check out this week's other Friday's Feast participants.