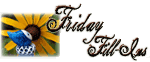 This week's Friday Fill-In was a bit tough for me.  Here goes nothing.
1. Contact may cause severe allergic reaction.
2. The parties hereto do mutually agree pay thousands and thousands of dollars to attorneys if we ever decide to stab each other in the back.
3. Disney parks are fun for grown ups and children alike.  I hope to take our children there one day.
4. Chocolate Peanut Butter Milkshake sounds really good right about now!
5. I positively need to workout.
6. Psych always makes me smile
(Man, I love that show!)
7. And as for the weekend, tonight I'm looking forward to working on a HUGE project for work, tomorrow my plans include attending the County Republican Convention and Sunday, I want to continue working on the project for work, plan my activities for the week, and blog!
Please leave a comment if you stop by my blog so I know who visited. I am always curious as to who visits my blog. If you have not done so already, be sure to check out this week's other Friday Fill-In participants.